Things to remember:
Homework : will be given out on Thursdays. Please can the homework be returned the following Thursday.
PE: Please ensure that the correct PE kit is in school all week. Our PE session will take place on a Wednesday and Thursday.
Reading: It is really important to read with your child at least 3 times a week. Please remember to write this in their reading records. Reading books and records should be brought into school every day.
Thank you for your continued support in what we are sure will be an exciting year for the class.
Dear Parents/Carers,
We hope you had a lovely half term break. Welcome back into term 6.
Our new topic this term is Australia. We will be producing a documentary on Australia, so children will need to investigate where in the world it is, what it's climate is like and how this compares to ours. We will explore the wildlife, habitats, famous landmarks and the history of the country.
We look forward to working with the children on this exciting topic, as always if you have anything you would like to share with the class about this topic then please let us know!
Many Thanks
Miss Carwardine , Mrs Barnes and Miss Marles
Year 5
WEEK 6
On Wednesday the whole school went on the Countryside trip. It was a very interesting day, with lots to see and do. Freddie said he liked the sheep show as  "the sheep got on their own podiums and danced to their own song". We also saw baby chicks that had just hatched and got to mill our own flour on old style machinery.
Week 5
We have had a fantastic, British Lions, sports week. Starting the week off with a selection of different sports for us to do on Monday, Tuesday was dodge ball,  Wednesday was our amazing sports day that we all really enjoyed, and then Thursday we finished with a few rugby related games. 
We have an update about the planting we did in Week 2. A small team from Year 5 have been caring for the plants and watering them when the weather has been hot.  We are very pleased to say we have yellow and green courgettes, strawberries and even a pepper growing.  Very exciting!
WEEK 4
This week in English we have been learning about Uluru, (Ayers Rock in Australia) and writing a descriptive paragraph about it. In maths we have been doing conversions with weights and measurements. In P.E. this week we have been practicing for our British Lions sports day.
Week 3
Year 5 have had a very busy week!  On Monday we had a WOW day to Uphill Beach.  We did lots of fun activities including a sand structure competition and we wrote our names in the sand and decorated them with shells we had collected.  
On Tuesday some of us went to Broadoak for an English day.  Paige said "Miss Britten read the story of the Tempest and then we all had different parts to play and we practiced them.  At the end of the day we did a big performance.  I thought it might be quite boring learning about Shakespeare but it got really exciting and I absolutely loved it!"
On Wednesday and Thursday a large group of children from both Year 5 and Year 6 went to London.  First we went to Shrek's adventure which is a 4D show followed by a river cruise and a trip on the London Eye.  At night we went to see a performance of Wick and then slept overnight in a hostel.  On Thursday we went to Legoland and then came home.
Kaycee said "It was a great experience and lots of fun!"
While the London trip was on the rest of Year 5 and Year 6 had a project to create our own Theme Park.  We had to prepare a leaflet, a plan of the park and a TV advert.  We had to present our ideas to the four dragons and multi -millionaires  Mrs Barnes, Miss Coles, Côme and Nicolas (our two French Students).  The team who won were the Adventure Park (Ellie, Kacey and Elise)
WEEK 2
This week we have been planting our own fruit and veg. We have courgettes, strawberries and peppers. In maths we have been learning about coordinates and how to translate and reflect them in four quadrants. In English we have 'visited' the Great Barrier Reef and have written post cards home with a description of what it was like.
WEEK 1
This week in maths we have been finding fractions of amounts. We have been looking at our new topic which is Australia, and in English we have been describing scenes from an Australian beach,tropical rain forest and a coral reef. 
Term 5
Week 4
Today, Friday, Year 5 have been experiencing what it is like to be a Year 6.  Mrs Pettifor invited us down to her class for the morning.  We started by listening to a story told from the point of view of the wolf in Red Riding Hood.  The book is called The Wolf's Story. Was the wolf really a good wolf, was he misunderstood?  
Week 3
This week in English we have been listening to a disaster story and rewriting it in our own words. We also acted out the story. Here are some photos of us working in groups to come up with some interesting descriptions.
In RE this week we learnt about Hinduism and the life cycle and reincarnation. If you have led a good life you have good karma and are reborn as a baby and the life cycle continues. However, if you have bad karma and have not led a good life you are reincarnated as an animal,insect or plant. 
Week 2
Here are some photos from last Friday's Steel Pan Drum session.  Miss Clough was very pleased with how well we performed on the drums.
This week we have been writing descriptive paragraphs about volcanoes and on Friday we presented our work to each other.
In Maths we have been working on short and long multiplication.  By the end of the week some of us were able to multiply by three digits.
In PE, the cricket season has arrived at Oldmixon, so we have been playing French cricket.  Freddie explained that a group of players go in a circle with one person in the middle.  That person has a cricket bat and can only face one way.  Another person throws the ball and the person with the bat has to try and hit the ball.  They are out if the ball hits them!
In RE we looked at Hinduism and the effect of Karma.  In Jigsaw the class looked at friendships and how to repair relationships when you fall out with your friends.
Week 1
Welcome back after the Easter break!
Our new focus for this term is Extreme Earth - Natural Disasters.  This week we started by looking at volcanoes and writing descriptive paragraphs.  On Friday we wrote a shape poem using our volcano descriptions.  In art we created a picture of a volcano using different techniques and texture.  The poems and pictures will be on display in the hall next week.
In Maths we have continued to work on our calculation skills. We practised drawing and interpreting different types of graphs.
On Friday, Miss Clough brought in the steel pan drums.  Photos to follow.
Term 4
Week 7
This week we completed our challenge about chocolate.  We finished designing and making our chocolate bars.  On Wednesday afternoon we presented our work to Mrs Hudd.  We had designed an advertising poster, created a suitable wrapper and did a presentation to persuade Mrs Hudd to choose our particular chocolate.  She wasn't able to choose an outright winner as each group's designs had something she really liked.
Here are some pictures of our chocolate bars.
Week 5
On Wednesday we had a session on Yoga.  Kacey said "The hardest pose we had to perform was a frog.  I couldn't lift my legs up!"  Elise found the Lotus position the easiest.
AJ thought it was a really fun session and he learnt lots of new poses including The Camel, Gracie demonstrated The Camel for the class.  Yoga is about being calm and relaxed, using our breathing to channel our energy. 
Week 4
Year 5 had a very exciting trip to Sidcott School to watch the students' performance of Charlie and the Chocolate Factory.  It was really good fun.
In English this week we have been looking how advertisers persuade us to buy their product.  We have learnt about the catchy slogans they use, how they use exaggeration and exclamation sentences to grab our attention.  We used all these hints to help us create an advert for the sweet we have invented.
 
In maths we have been learning about fractions, decimals and percentages.
Week 3
In Maths we have been working on addition and subtraction with one, two and three decimal places.  We continue to learn our times tables for Friday's mental maths challenge.
Our English this week has been really exciting as we have been tasting different types of sweets, thinking about the 5 senses, taste, smell, touch, see and hear so we could then move on to thinking about inventing our own sweet.  On Thursday we wrote a description of a sweet we would like to make using a mixture of the different ingredients we had tasted.
These photos show our reactions when tasting some very sour sweets.
This week's PE was hockey and in Dance we listened to House music and then performed a street dance.
Week 1
This week we have introduced our new topic based on the Roald Dahl book Charlie and the Chocolate Factory.  We had a class discussion about what we would like to learn about chocolate.  In English we have been writing character descriptions including a new character for the book.  We have been practising adding embedded relative clauses to improve our sentences.
In Maths we have been working on time including 24 hour analogue and digital clocks.  One of the groups looked at different types of watches such as analogue with lots of numbers or very few, roman numerals for the numbers and digital.  After that they discussed which watch was the easiest to read, which was the most difficult and which one they would choose.
In PE we have been learning different street dance techniques and we also had a go on the climbing equipment in the drama studio.
Term 3
NSPCC Numeracy Day
On Friday 3rd of February we took part in a numeracy day to raise money for the NSPCC. We played "Who wants to be a Millionaire".  Two teams won 1,000,000 points (sorry not pounds) - The Number Crunchers and The Fraction Fighters.
We had lots of challenges to do including making Mobius strips and tangrams.  It was lots of fun.  Here are some pictures of our class activities and outfits.
Week 6
This week we have finished our topic on the rainforest by creating some 3d models showing the different layers.  We added some animals and birds.  Here are some pictures of the finished results.
Week 5 
In English we have really enjoyed using our skills to write descriptive texts about different pictures.  The pictures have all been made out of food. Can you imagine a picture where the bridge is made out of cucumber, the bushes are made from curly kale and the trees are broccoli.  
Our second picture was an autumn scene with golden leaves of dried cornflakes, lamps of cinnamon sticks and a candle glowing from a cob of corn.  The winter scene looked like a frozen, frosty dream with an ice cream castle with chocolate walls.  Our favourite however was the world where everything was pink. A house made from soft nougat, liquorice doors and chocolate button tiles.  It looked scrumptious and good enough to eat!  
This book, A World of Food, has really inspired us to use interesting adjectives to improve our descriptive language.
Weeks 3 and 4
We have continued to work on our Into the Forest challenge, exploring this through geography and science.  You can see from the photograph of our board that we have
looked at facts about Sloths and how to write information texts.  We have also looked at the different layers of a Rainforest.
In Spanish we have been learning how to make sentences using adverbs, adjectives, articles and verbs.  Miss Norris has been telling us about her life in Argentina.  She lived behind the mountains and sometimes it was cold and snowy.
Week 1 and 2
In English we have started looking at our book for the term, Into the Forest.  This book is a picture book and we have been using pictures to create some descriptive writing and poetry.  On Friday we used instruments to enhance our poems.  
We have been setting ourselves some targets for maths.  This involves us having realistic goals that we can achieve in the 5 weeks left.  Some of us have decided to practice our times tables at home, others are concentrating on number bonds,  This extra study will help to improve our confidence in Maths. 
In Maths we have been measuring in mm, cm and m and calculating the perimeter of shapes.  
TERM 2
Week 5
In science this week we have been testing materials to see which ones dissolve. We tried flour, sand, oil, sugar and coffee.  Most of the materials were successfully dissolved, however, the oil floated on the top of the water.  The flour didn't dissolve but the water turned a milky colour.  The sand sank and lay on the bottom of the cup.  Freddie said he was surprised that the oil did not dissolve.
Week 4
This week we had an exciting trip to Pizza Express and the M Shed.  
At Pizza Express we had lots of fun making our own pizzas.  First we got some dough and worked it into a round.  Next we added some tomato sauce and our favourite toppings.  When they were cooked we were allowed to eat them. Delicious!
After lunch we went to the M Shed for our World War 2 workshops.  There were four different groups. Kacey and Kaycee were in a group trying out gas masks.  Another group looked at a suitcase for an evacuee.  In the pictures you can see Samuel, AJ and Elise trying on some balaclavas and a flat cap.  Leo dressed up in typical clothes from the World War era.  He looks amazing!  Amy and Oliver tried on helmets worn by policeman during air raids.    It was an amazing experience and we all learnt some interesting facts about life during World War 2.
Week 2
This week in Forest School we made bark and leaf rubbings using crayons.  We collected various different types of leaves to make a bookmark.  Also we made our own forest in a tub - see pictures.
In topic we used computers to research the key dates of World War 2 and created a timeline.  We also used atlases to identify which countries were allies, enemies and which were neutral.  Here is a picture of our human timeline.
In Maths we have been using rounding to estimate answers to solve problems.  We started Read Write Inc this week and have been learning new skills through this.  
Week 1
Miss Carwardine introduced our topic for this term - World War 2 - we discussed what we already knew and what we would like to discover over the next few weeks.  
Elise and Kacey made some posters at home about some of the facts they found out.
In art we created portraits of WW2 soldiers.  We used paper, chalk and pencil to create a camouflage effect.
This term Year 5 will be experiencing Forest School with Mrs Parker. On Monday afternoon we walked to the woods near the hospital where Mrs Parker had set up some activities for us to do.  
AJ said "We had to make some flags to mark the boundaries and we made some paper hats.  I enjoyed exploring around our boundaries because we went on a hunt for different sizes, colours and shapes of leaves. I wonder what we are going to do next week."
AUTUMN HALF TERM CHALLENGES
Term 1
Our topic this term is
ANCIENT GREECE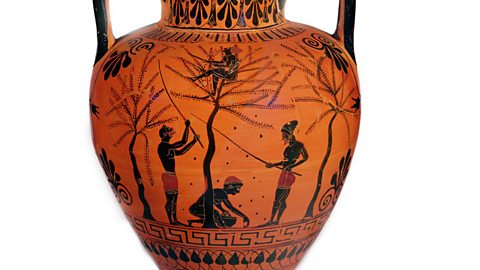 Termly Letter
Week 7
This week we had our last swimming session at Sidcott School.  Our instructors were very impressed with the improvements we have made over the weeks.  Group 1 can now swim a length of the pool, group 2 can swim a width of the pool and Group 3 have gained lots of confidence in the water and are able to swim a width of the pool with a float.
On our last session we showcased the improvements we have made to each other then we had lots of fun playing with huge floats and some of us jumped in at the deep end! 
Here is a photo of us after our last session.  I think we all look proud of our achievements.
Week 6
The Scarecrow Competition
WE WON !!
For Harvest each class had to make a scarecrow.  Everyone was invited to visit the different classes and vote for their favourite scarecrow in KS1 and KS2.  Year 5 won the KS2 competition with our scarecrow SCAREAGLEION!  This term we have been studying Ancient Greece and mythical creatures so we made a three headed scarecrow with wings and claws.  Our prize is a movie and popcorn party which we will be having on Wednesday afternoon.
We also made Melting Moment biscuits to see. The biscuits were yummy and sold out very quickly.
Week 3
On Tuesday we started our swimming lessons at Sidcott School.  When we arrived we met our swimming coaches Kerry and Vicki who assessed our levels in the shallow end and then split us into two groups.  Kerry also explained all the different whistles we might hear - one whistle means stop and listen - three urgent whistles from the lifeguard means "get out of the water immediately!".
In Kerry's group we went up to the deep end and practised lots of different skills. One of the things we had to do was to blow out a birthday candle under the water.  Kerry sprinkled us with magic glue (she splashed us with water!) so that we could stick our chins to our chest and keep our heads down while we were swimming front crawl.  The funniest thing we had to do was to use our noodles like horses and turn round in a circle.  It was hard work to turn and tread water at the same time.
At the end of our session we played Pirates and Crocodiles, half the group jumped in shouting "Ahar matey!" and the other half had to try and catch them before they got the other side.  We then swapped over.
Freddie was given the Book Award for his swimming. He showed excellent skills with smooth controlled breathing in front crawl.
Week 2
On Tuesday we went to Sousta Greek restaurant where we were treated to a morning of Greek food, dancing and plate smashing.
Here are some of the foods we tried -
Tzatziki and taramasalata with pitta bread
Greek hotdogs with salad and feta cheese
Keftedakia - soft meatballs in tomato and herb sauce
Halloumi and Grandmother's roast potatoes.
Bambara entertained us with music and signing and the two Nicos showed us how to dance Greek style and we all joined in.
​
Samuel, Jaiden, Paige and Leon took part in some of the tricks Bambara showed us. Here is a photo of Samuel balancing some glasses on his head and Jaiden and Paige picking up a glass from the floor without using the hands.
We had a fabulous morning and when we left we were given some Paklova which we took home to enjoy.  A big thank you to everyone at Sousta Restaurant for a fabulous morning.
Week 1
The children returned to school this week and settled into Year 5.  We are excited about all the things we will be doing throughout the Year starting with a visit to a Greek restaurant to taste some food and learning Greek Dancing.